Products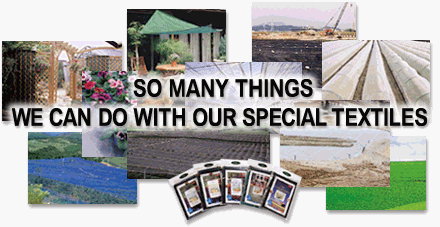 Warmth Curtain ("SUNSUN SCREEN", "ALNAX")
realizes best surroundings for growing flowers and greens, effectively controlling temperature and humidity.
Tnsecticide Net ("SUNSUN NET")
fits best to chemical-free culture, with optimum permeability to sunlight, air and rain, needs no reset from planting till harvesting.
Shading Net ("WIDE SCREEN")
comes in a wider range of size, shading ratio and texture Of course, heat barrier type is also available.
Wind-breaker Net ("WIDE RASCHEL")
a light weight but durable net, woven on the latest Raschel machine. Good chemical resistance, permeability to air and water. Protects crops from storms.
Thermalbond Screen ("RAKURAKU NET")
A strong special textile with warp and weft thermally bonded at intersection, causes no fray nor mesh shifting, makes free-hand cutting possible.
Antibacterial AGRI SHEET
a durable versatile sheet for weedproof, with amazing antibacterial and water pemeant property and so on, exhibits best efficiency to improve crop surroundings, and good non-slip abrasion as foothpath.
Drain Filtration Sheet
a specially woven mesh of high density fibers, not only separates sands from gravels but also prevents uneven land sinking and sand drain from occurring.

Engineering Sheet
a strong engineering sheet of mesh or woven structure using special fiber or polyester, fits best to civil engineering work at weak foundation such as landfilling, sand barrier or sand drain prevention or ocean pollution control.
Landscaping Base Materials
earth saving bags and nettings, developed for greening of back hills, realizes an easy construction work by combining unique weave, knit, seeds and fertilizers altogether.
Gardener's Screen
Gardener's Screen a full line-up to create comfortable surroundings for gardening, has many supurb functions like sun shading, wind breaking, and antibacterial properties.